SOAR THROUGH THE SCENIC
RUSSIAN RIVER VALLEY
ON THIS GUIDED FUN, NO-SWEAT 3-HOUR TOUR
AFTER 22 YEARS AS THE PREMIER RIVER OUTFITTER ON THE RUSSIAN RIVER
RRA PROUDLY PRESENTS
THE GAME CHANGER ELECTRIC BIKE TOUR WITH
BLUETOOTH INTEGRATED BIKE HELMETS!
CRUISE THROUGH SWEEPING LANDSCAPES OF VINEYARDS, COUNTRY ESTATES, WINERIES, FARMS AND REDWOODS IN THE RUSSIAN RIVER AND DRY CREEK 
VALLEYS. BREATHE DEEP THE SWEET SCENTS OF SONOMA COUNTY.
(NOTE: THIS IS NOT A WINE-TASTING TOUR)
2 TOURS DAILY
APPROXIMATELY 3 HOUR TOUR
9:00 AM  &  1:30 PM
ONLINE RESERVATIONS REQUIRED
$149 PER PERSON
Use promo code SPRING23 for a $30 pp discount = $119
A tour guide gratuity of 20% to 25% of the cost of E-bike tour per person is suggested



"Thank you for being a great guide and giving us a great tour. We hope to have you as our tour guide again when we come back!"
  ~ Octavia
"Thank you for being such an awesome tour guide. One of the best experiences I've ever had. We hope to see you again next year!"
  ~ Erik
"Much appreciate the extra care and time you spent with us. Such an enjoyable day."
 ~ Tina



"What a GREAT ride through Sonoma's beautiful countryside! I was a little worried at the beginning of the ride because we went through commercial and residential areas to get to the countryside. Once on the back roads it was a GORGEOUS ride through the vineyards and farms. Our tour guide Bruce had a wealth of knowledge of the local history. He turned a scenic ride into an education for my wife and I. Bruce was fantastic. Larry (owner) is a wonderful host, and tries to personally connect with all the riders. See our photos for some of the beautiful places we visited on our tour."
~ Joseph
We were visiting Sonoma for a family event and when looking to see the sites we chose to book the bike tour and canoe trip package. As a family of four (with 2 older children) this was the BEST experience we could have hoped for. Bruce was EXTREMELY knowledgeable, charismatic and very friendly. We were all first time E-Bike riders and Bruce was very patient and understanding in getting us comfortable and acclimated to riding. The tour is through the most beautiful scenic views of Sonoma you can possibly imagine; with stops at a winery and other historic sites. We highly recommend adding this excursion to your itinerary!
~ Mark
"My wife and I had a great time taking the e-bike tour. We got lucky and had no one else in the group so it felt like a private tour. Larry and Bruce were extremely friendly and made sure we were comfortable before starting. I've driven through Sonoma County many times but never experienced it on a bike and I'm glad we  decided to. After getting out of the immediate downtown, Bruce took us on some beautiful country roads and pointed out different types of wildlife, plant life, vineyards, mountains, and iconic buildings in the area. We stopped at Bricoleur Vineyards and got to walk around the property (no wine though). This was probably the most beautiful vineyard we'd seen. We stopped in a redwood grove for a snack and kept on with the tour. The bike itself is easy to ride. You get a bit of a workout in without it ever feeling strenuous. Bruce was very knowledgeable of the area and was very easy to communicate with. It was easy to see how much he enjoys what he does. He also recommended many great wineries and restaurants in Healdsburg. We definitely want to return to Healdsburg and explore the area more and will definitely take a canoe trip next time. Highly recommended!"
 ~ Derek B.
LET US BE YOUR E-BIKE GUIDE ON A RUSSIAN RIVER ADVENTURE TOUR!
Immerse yourself in an experience that rejuvenates the mind, body and spirit. We offer exciting, quality E-Bike adventure tours to suit every fitness level from young to older and everywhere in between.
Riding a bike with a pedal assist electric motor changes the game. Hills are no longer a dreaded sight but rather an easy experience!  We will be effortlessly cruising at an average of 15 miles per hour.
The electric assist motor kicks in as soon as you begin pedaling.  Stop pedaling, the motor stops. Want to cruise a bit?  Use the thumb throttle to engage the motor…It's super easy, super fun and you feel superhuman!
Our E-Bikes have 6 speed levels of pedal assist, and 8 derailleur levels for pedal resistance.  Your tour guide will teach you to effectively ride.
Our Sena Bluetooth Mesh Intercom helmets allow the group to be connected, to share the experience, the thrill, to ask questions, to learn from your guide, to enhance the safety of the tour, and to experience a unique group cohesiveness.
After an orientation to become familiar and comfortable on your E-bike, your guide will lead you on several miles of breathtaking country roads.
If you are not an avid bike rider, this tour is for you!  You will get great exercise, see our beautiful backroads at a comfortable, easy pace and not be tired at the end of the tour.
Avid cyclists will enjoy this tour just as much, and perhaps more so than  regular bike tour, because they are not pedaling so hard and can enjoy the beautiful countryside.
Friends, cyclists and non cyclists can pedal together
This is a fun 3 hour tour.  You do not have to commit to a whole day long tour.
There is time for an afternoon paddle down the Russian River!
Only 70 mi from San Francisco!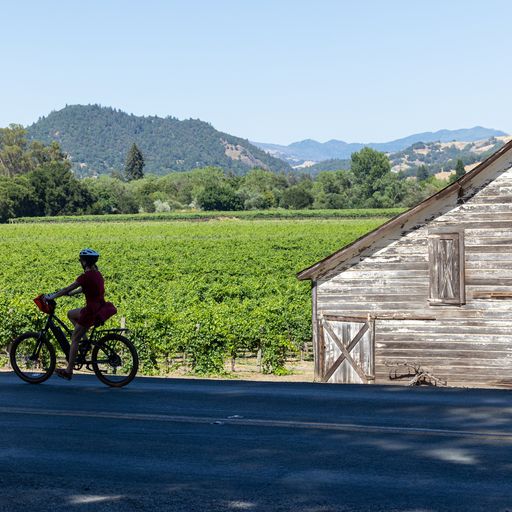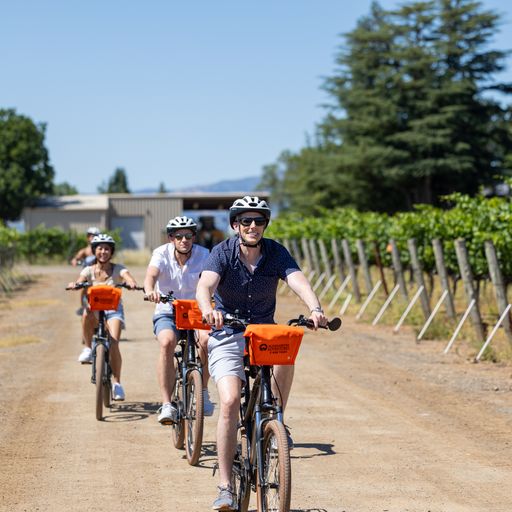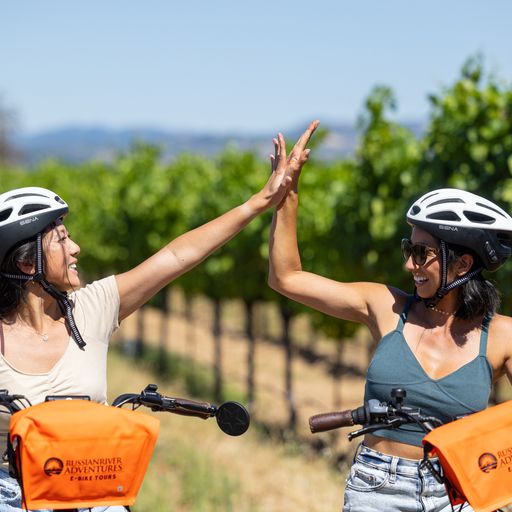 FEEL LIKE A KID AGAIN –

 RIDE PLEASANTLY THROUGH THE BACK ROADS OF THE RUSSIAN RIVER VALLEY IN APPROX. 3 HOURS ON AN ENJOYABLE GUIDED E-BIKE TOUR! 
If you have aways wanted to try an E-bike, this is a great opportunity!
We will teach you how to ride effortlessly on this beautiful loop. If you know how to ride a bicycle, you know how to ride an electric bike.
Fast learning curve with in-depth orientation
The first 3 miles of cycling is on a dedicated bike lane
Your guide will assist you through helmet communication so that you become very comfortable with your guide and all fellow e-bikers
Meet Your Guide
Bruce Kramer is an avid and educated naturalist. He has been hiking and backpacking in many wilderness locations throughout California, Arizona, Utah, Nevada, Colorado, New Mexico, and North Carolina since he was 16 years old. With over 14 years of guiding and touring experience, 10 years of which was with his own hiking tour company in Sedona Arizona, Bruce has a deep admiration, love and understanding of the natural history and beauty of nature in the places he guides.
As a long-time resident of Sonoma County, Bruce's guiding skills and knowledge of the area are greatly appreciated by our Russian River Adventures E-bike tour guests. He is often acting as our 'mobile' concierge, recommending other outdoor activities, wineries for tastings and restaurants, as well as many other places of interest throughout Northern California.
"E-bikes have changed the way of experiencing the breathtaking beauty of the backroads of Sonoma County. The completely joyous nature of riding e-bikes  has been an inspiration for me and the guests I guide. E bikes have upped my level of enjoyment and has, in a way, given new life to the adventure of touring, health and well-being."
 -Bruce
IN CASE YOU STILL HAVE QUESTIONS?
Check out our FAQ Page for insights and info. Still have questions – give us a call at (707) 433-5599 or Toll Free at (800) 280-SOAR (7627))